Project co-curated by Annlor Codina & Nawras Shalhoub
Line en français   ///  Download Line
Work in progress
– Co-produced by Biennale/Arts Vivants/International, Bricodrama2, Mix'art myrys & the artists of the project
– Presented at: Lieu Commun, Atelier TA, Collectif IPN, La Fourmilière, La Méche/ Atelier Borderouge, Mix'Art Myrys, Toulouse – Rabastens, France
– Supported by Bois perché through their system: Artists' residence.
– Supported by DRAC Occitanie through AIC
LINE is an ongoing project connecting six artists from the Gaza Strip with six living artists in the Toulouse region (France), to hack borders and blockades and  allow the circulation of artistic projects. The current geopolitical context of Gaza and the resulting restrictions, hinders access to materials and the mobility of artists and artworks outside this 360 km2 micro-territory.
The idea of a Gazaoui artist is realized by the hands of a Toulouse artist, and reciprocally the Palestinian artist realizes the project imagined by his European artistic partner.
The twelve projects will constitute two travelling exhibitions of six projects each: one in the Gaza Strip and one in Europe.
Through this project we affirm that there is no border for art!
–  PROCESS  –
After receiving the European artistic portfolios, each Palestinian artist chooses with which artist he wishes to create, exchange.
How do you realize a project imagined by another artist based more than 3000 km away?
What alternatives can be invented to overcome technical & material problems, differences in artistic practices, language barriers, …?
Through these collaborations we experience our contexts, our cultures, our aesthetics, we disrupt our ways of doing and thinking.
Projects are built by discussing together via the means of communication available: video call, document exchange platform, social network, instant messaging, emails, etc., except by letters since post office no longer exists in Gaza.
The project is a co-creation, whose artists are co-authors and it can mutate as conversations progress.
The artwork is exhibited, accompanied by traces of the thought in motion, generated as a result of exchanges between the two artists: printing emails, screenshot, drawing, video capture, sound. The materialization of this creative process can be polymorphic: notebook, sculpture, website,diagram, video, graphic, installation, sound composition … to the artist's free interpretation.
– ARTISTS & CO-CREATION  –
Click on picture >>> portfolio
– DUAA QISHTA –
Duaa's interested in humanitarian issues such as poverty, migration and asylum. Her current artistic projects shed light on the process of combating trauma resulting from war and siege. She observes the solutions developed by the inhabitants of Gaza to overcome material shortages and unusual situations, studies the reactions of the people she then explores, using different media such as painting, drawing or sculpture.
Website /// FB /// dqishta@gmail.com /// CV /// Project Al Awda – Ice cream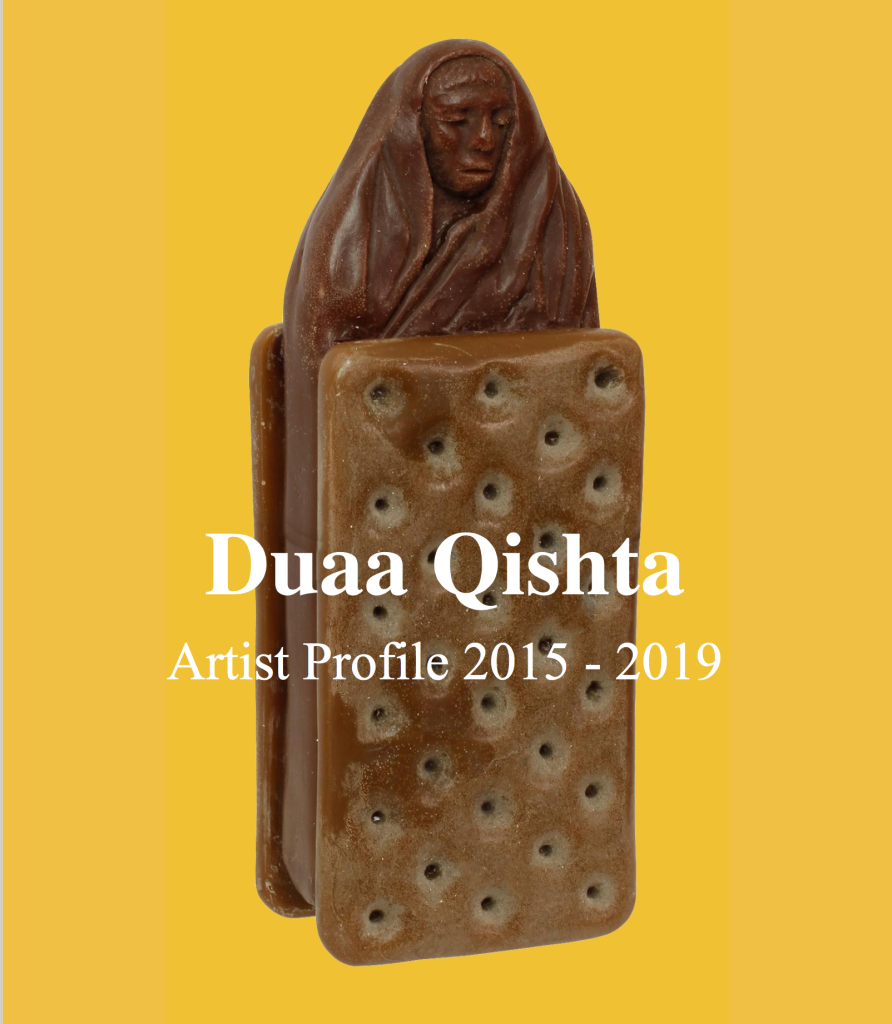 – ALEX LESS –
Portraitist of a twilight civilization, Alex Less bridges the gap between anthropology and autopsy; when fantasy fights against grotesque, with sharpened streaks and vibrant colours, the artist acts as an illustrator-lawyer of the human vanity. Showing a visceral expression, often raw, which joins the fulgurism of the press drawing. With a frenetic energy, he tirelessly produces true iconic images, poetic collisions bursting with words, thrown like so many tragic haikus.
Website /// FB /// alexless.box@gmail.com /// CV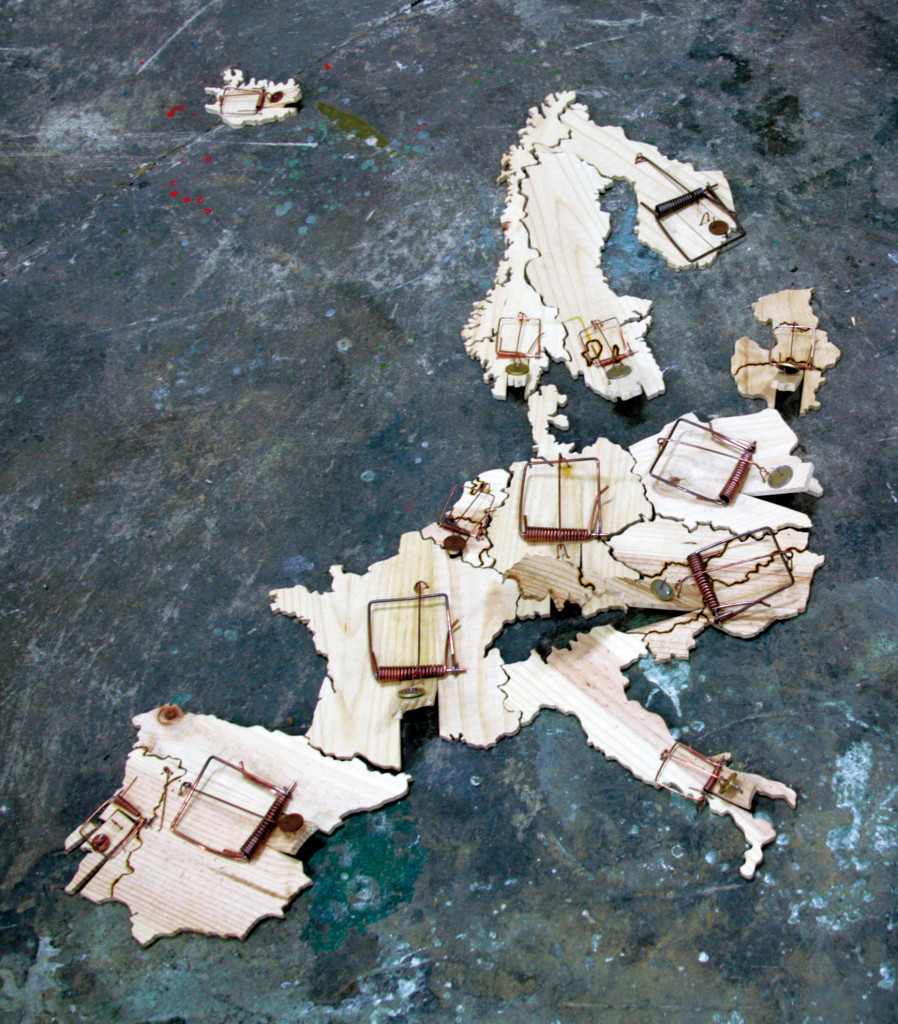 – DREAM CATCHER, Duaa Qishta + Alex Less –
Suspended installation: Bicycle wheels, ropes, straps, wood, children's drawings. 80 x 200 cm.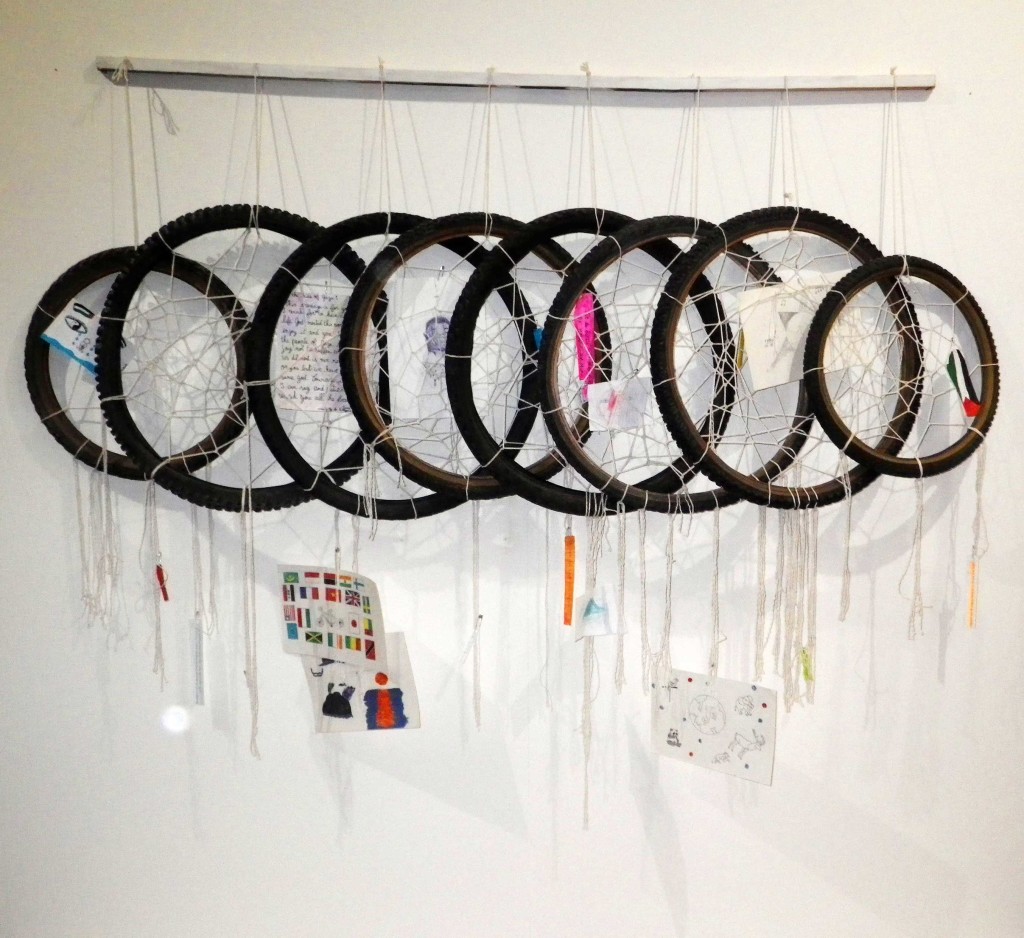 – RUQAIA ALULU –
"Jakar"- (insisting for the sake of proving a point) – is a slang word that has been frequently used in the Gaza Strip lately. A new street between the eastern borders separating the Gaza Strip and the occupied territories in 1948 was named Jakar. This street is considered a stage for many dramatic scenes occurring since the end of March 2018 till this day.
Ruqaia focuses on the characters residing on the borders through her paintings and the use of lines and colours. She conveys the creative and new nonviolent means and tools through those characters. The means created in order to revive the world's conscience and demand the removal of the wire and the right of return. She lives near the eastern borders and the clashes site, where she witnesses the events all day long. She watches the ambulances going back and forth and follows the movement of the rising smoke and the inflaming fires. That's why she wanted to transform the visual scenes into paintings that mimic the moments in our present and documents it through coloured paintings.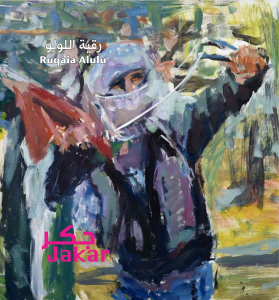 – DIANE TROUILLET-
Diane explores the interface of art and science and questions the innovation process and image construction.
In developing organic mediums, she experiments new artistic supports. Her works highlight random transformations of matter, evolving out of control. She gives the first impulse, and matter takes over, evolving and transforming during the space-and-time of the exhibition, according to its intrinsic properties as well as the showing conditions.
Her work questions the status of artwork and suggests alternatives to reconcile artificiality and living.
Website /// FB ///diane.trouillet@hotmail.fr /// CV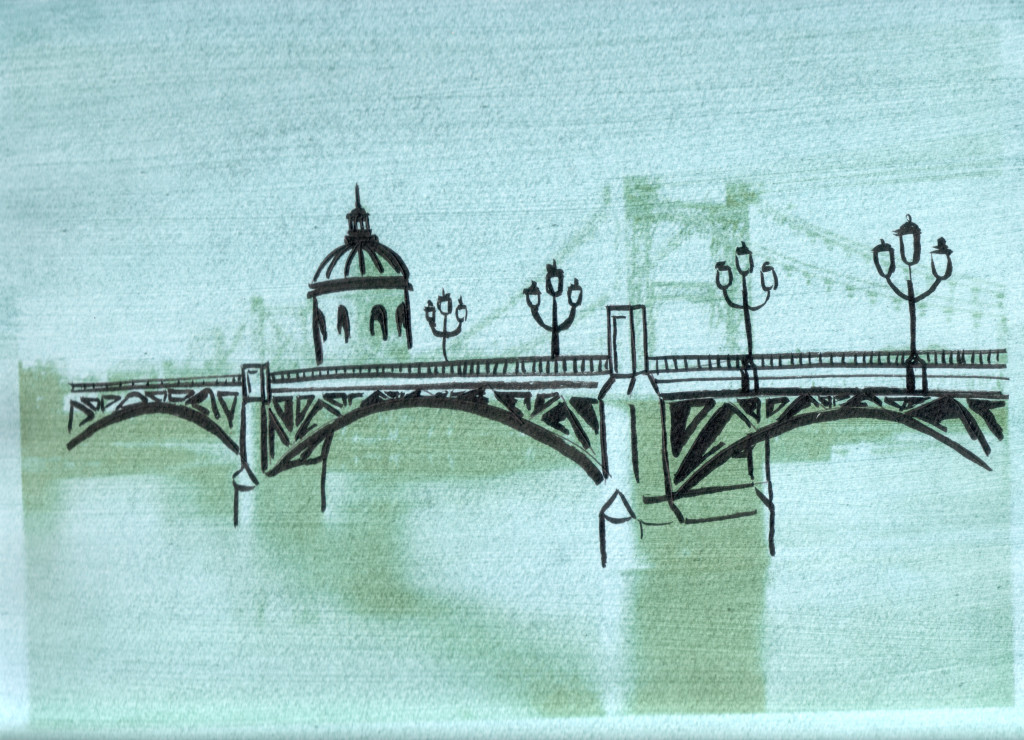 – REAR WINDOW or WINDOWS ON JAKAR , Ruqaia Alulu + Diane Trouillet –
Installation: Acrylic painting on computer, watercolour under chromatography, preparatory photographs. 2 x 3 meters.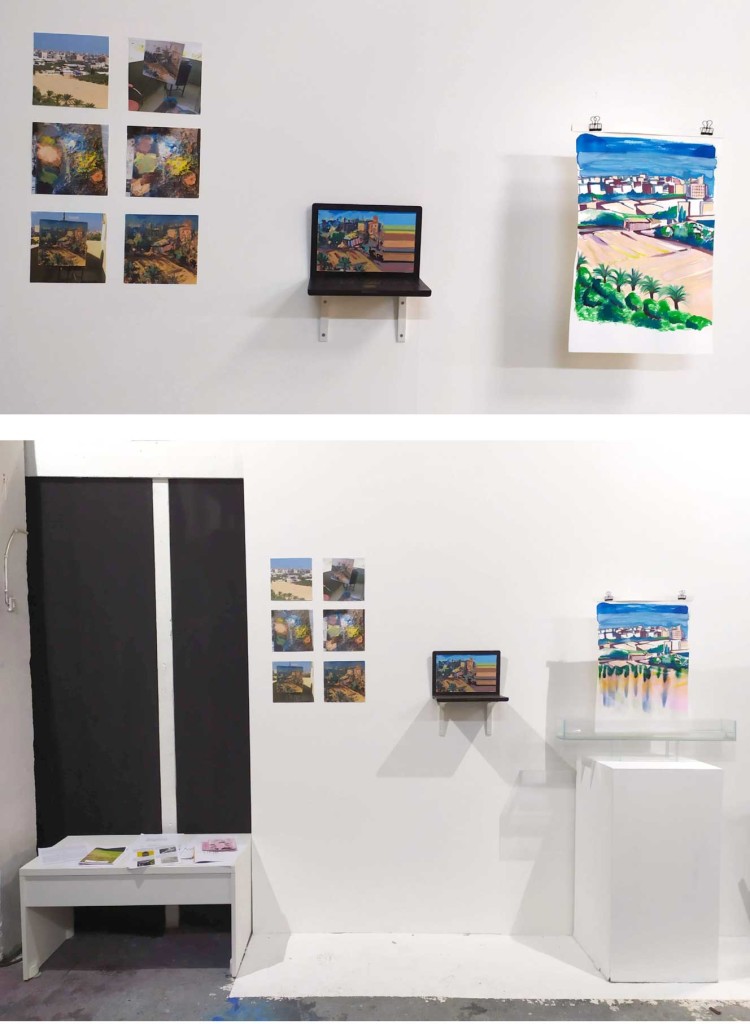 – MAJDAL NATEEL –
The source of her inspiration is her home Gaza and its people.
She uses her art to liberate herself from the anguish of the tragedies of Israeli incursions and bombings of the strip. Yet, despite these tragic circumstances and perhaps as a result of them she applies bright and vibrant colors such as yellow in her new works to propose a new appreciation of life. Therefore, there is a kind of juxtaposition in her current works where life and death, destruction and hope are not only contrasted but seem to coexist.
During the bombings she would put her brush to paper and let her emotions ow on the sound of bombs.

– ANNLOR CODINA –
Under the shape of installations, devices, sculptures, interactive experiences, the wider part of her work is centered around questioning archetypes, forms of power and violence, which travel across history and our societies.
Annlor generates means to create cracks in their schema, divert, disturb codes, norms, habits and customs,  twist the certainties, short circuit functions. She attaches also importance in generating freedom spaces.
She plots poetical resistance strategies to disarm the aggressive potential of violent representations by steering them towards more playful and party grounds. Her artworks dismantle and rebuild reality to examine the mechanics of the balance of power and offer a dynamic alternative by mocking this prevailing violence.
– RANA AL-BATRAWI –
In her work, Rana focuses on studying works through sculpture, installation, and through understanding the materials and integrating them with the proposed concept or the other way around, using it to express the concept of balance and contradictory solutions. The material and its basic components become the visual language representing the art work. The work also includes the study of the composition and the non-absurd vacuum. The scope of the subjects is not realistic but rather tangible and mirrors the continuous attempts to think and adapt as an individual. The works explores the philosophy of inner peace that humans need to elevate in life. »
Project Ashes and Clay /// FB /// ranabat.art@gmail.com /// Portfolio 2 /// CV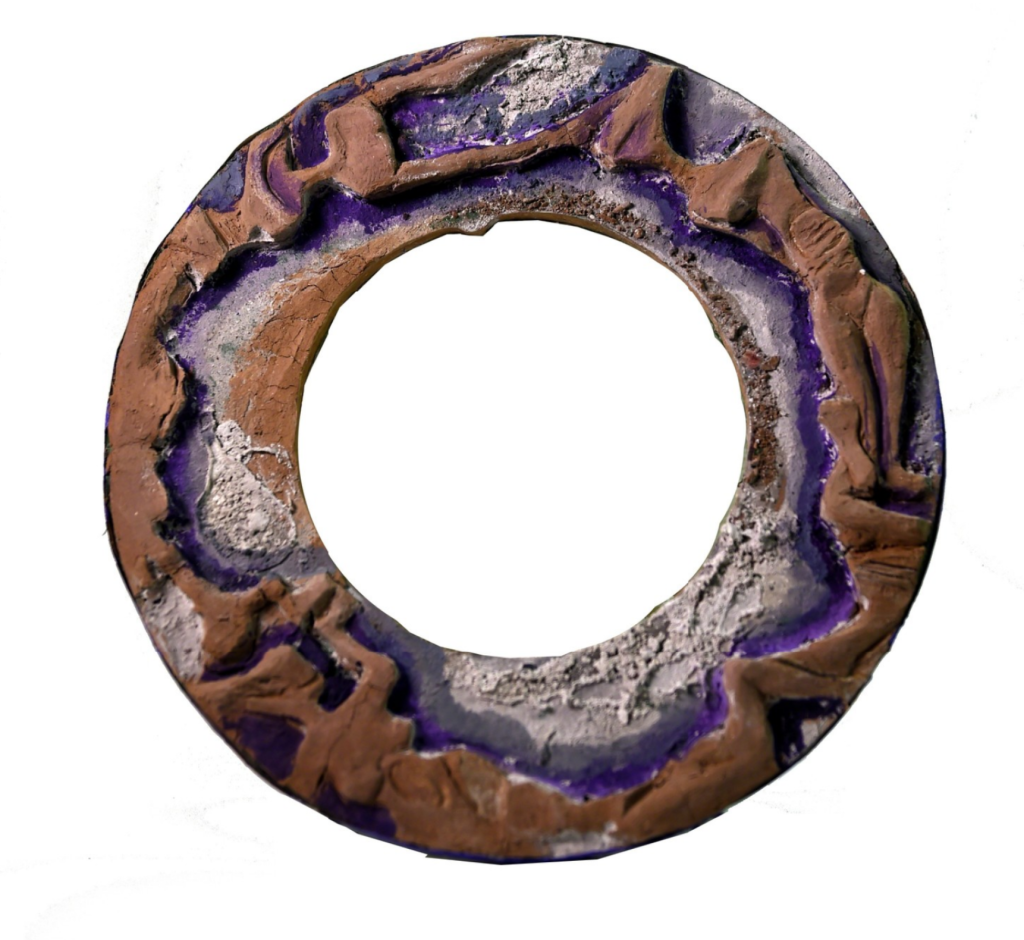 – TITOS KONTOU –
« I have always been interested in our origins, our human nature.
Where do we come from ? What are we doing here? Why life and death? Where are we going ? In my pictorial research, I try neither to give answers nor to please. I denounce, I seek a certain truth related to our human condition and a possible harmony with nature.(…)
For me the three main aspects of human nature are: body, soul and spirit, intrinsically connected to each other. And these are the three aspects that have guided my painting for many years, I like, in a work of art, to feel the breath of a body, its movement in space time and its intangible / immaterial part to give life to a painting, give it body «in the flesh». It's like a vital need for me to go back to basics, to rediscover spirituality and to restore hope.(…) »
Website /// FB /// akentitos@yahoo.com /// Portfolio Fr /// CV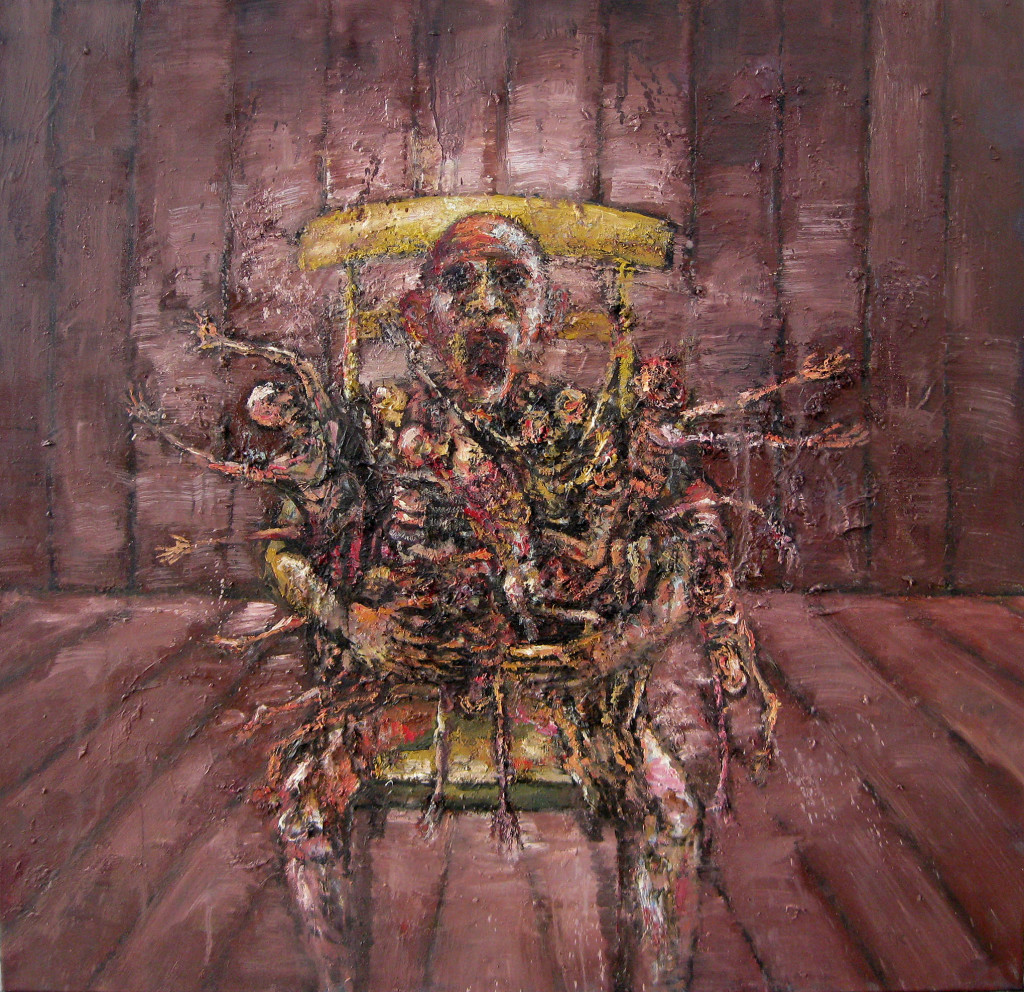 – HUMAN REALITY?, Rana Al Batrawi + Titos Kontou –
Installation: Oil on canvas 100 x 70cm, plaster sculpture, wood and plant 100 x 75 cm, studies and photos of the process.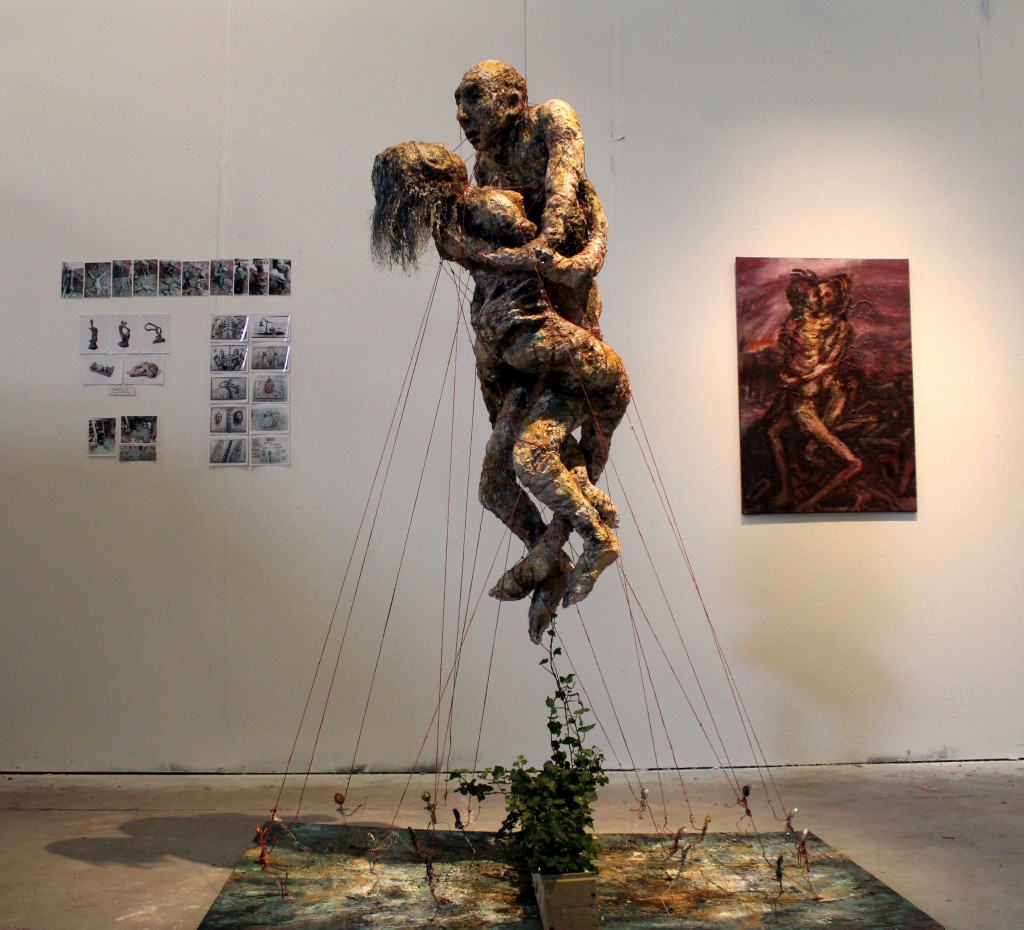 – REHAF AL BATNIJI –
Rehaf 's interested in street photography, with all the details, because the streets always answer all her questions about life, about the contradictions around her. She captures moments in the cultural life of communities and their many achievements.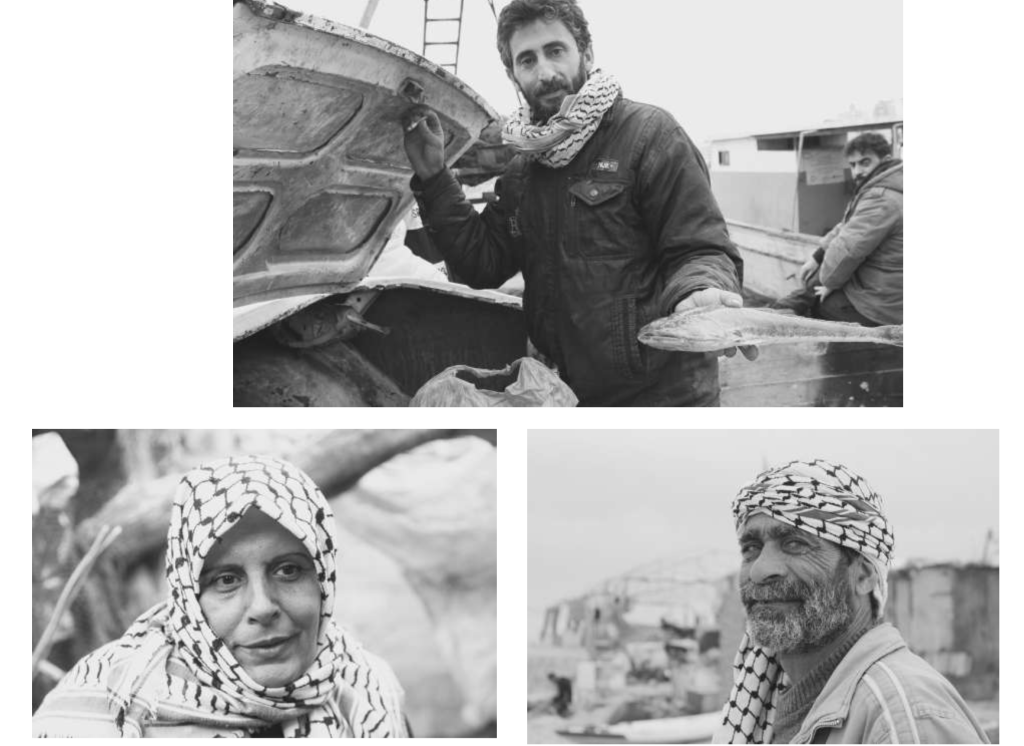 – GENJO SELWA –
Genjo's a kurdish artist, living in Toulouse, who started his practice with plastic arts, in the Centre of Arts Graphics in Zakho, his hometown, then studied fine-arts at Duhok (Kurdistan-Iraq) while volunteering at Save the children and Acted, two refugee non-governmental organizations.
He uses various media such as mural painting, painting, watercolour, drawing and sculpture to explore the poetic and rough aspect of humanity.
He's one of the founding member of photographic collective Jungleye.
Website /// FB /// selwa.genjo@gmail.com /// CV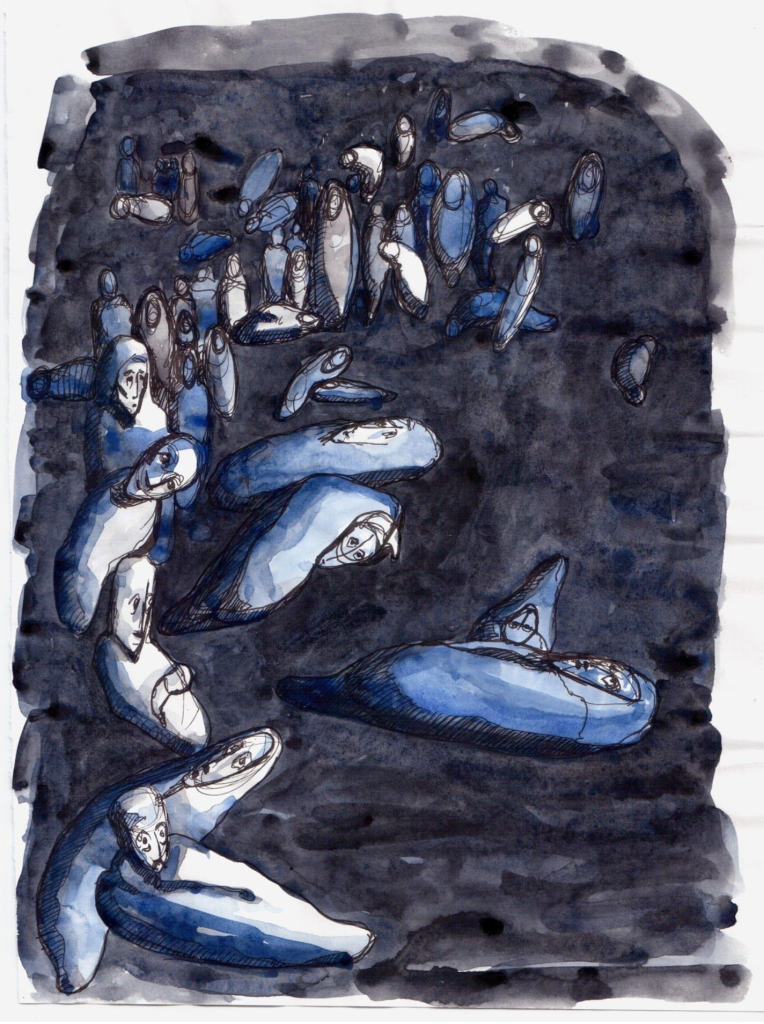 – LE CERCLE VICIEUX / LA BOÎTE, Rehaf Al Batniji + Genjo Selwa –
Installation: photographs, wires, typewriter, mailbox, papers.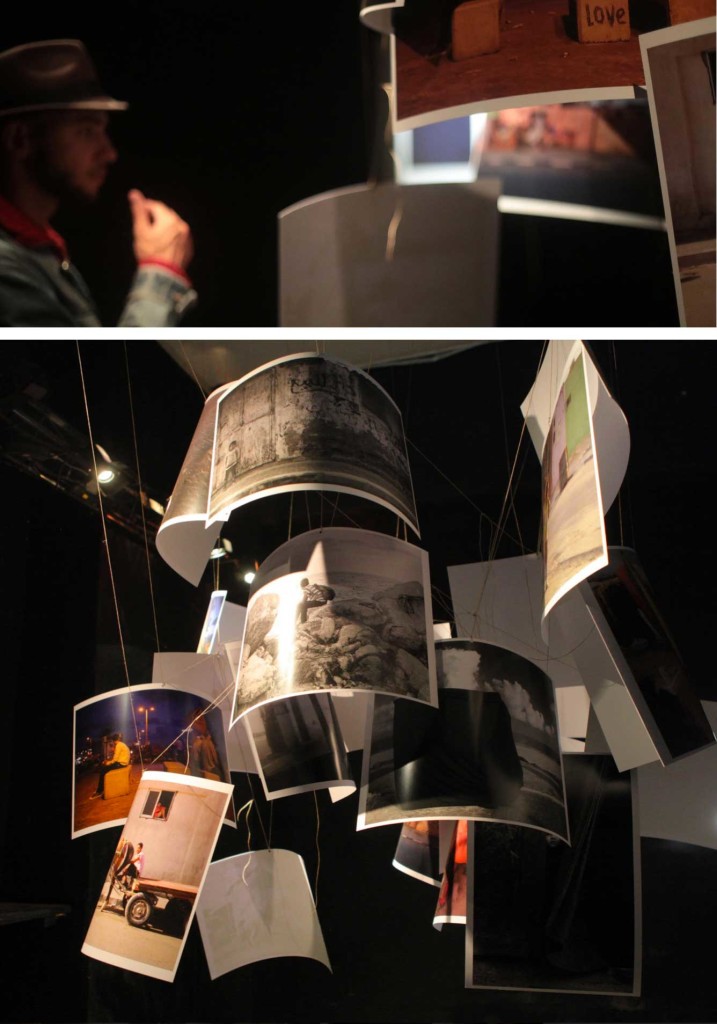 – SHAREEF SARHAN –
Shareef uses various artistic mediums between drawing, sculpture, installation, digital photography, and even video, which were his key to the outside world. He's now working on a group of new projects to be implemented, between 2019 and 2022, include installations in the public space, a new book of photographs about traditional industries in Palestine, and a project about immigrants : an issue that has become one of the world's most pressing problems.
He's a founding member of Shababek Contemporary Art group and an active member of the Association of Palestinian Artists.
Website /// FB /// shareefsa@yahoo.com /// CV /// Project The Remains of a Battle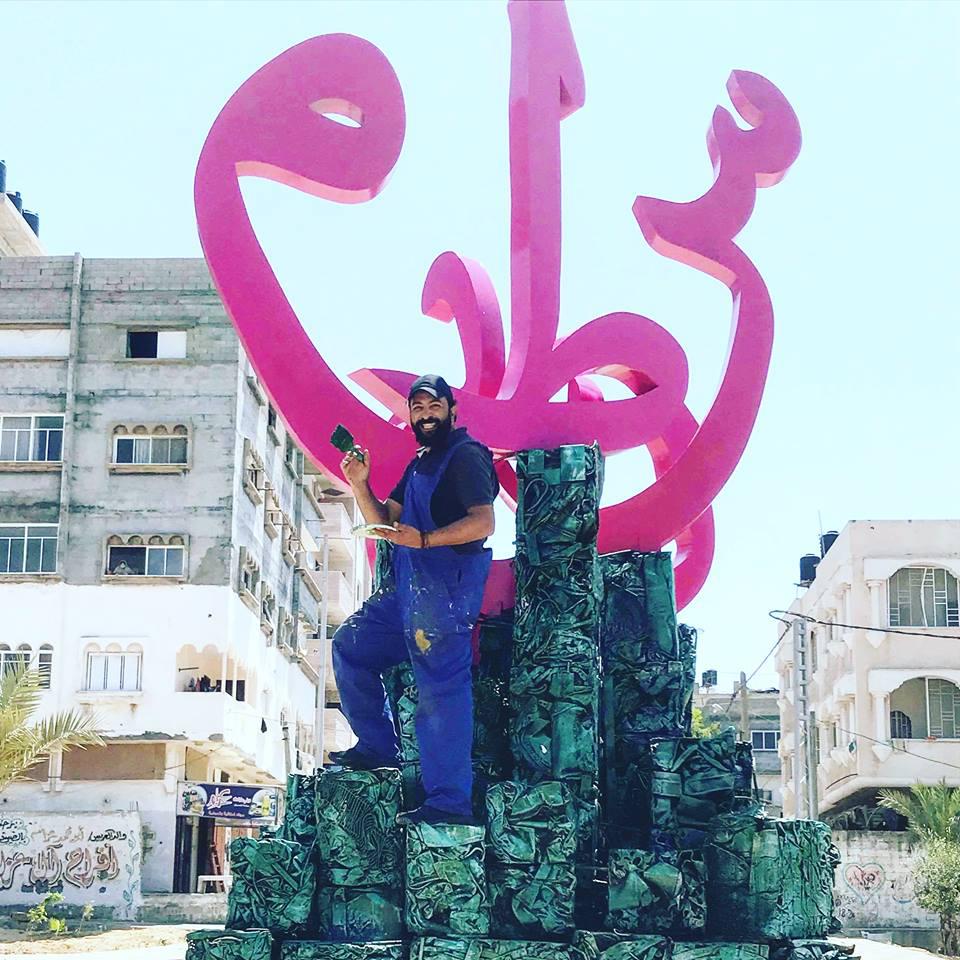 – LUNAT –
The voids tell, but also a coulure, a footprint of a monotype, a line, thrown on the canvas; several techniques intertwine, giving life to images that are both fuzzy and narrative, between presence and absence, reminiscences of memory or strange dreams. Anxiogens and dreamlike at the same time …
Words too. Lunat also writes, and a dialogue is created between images and texts. It draws on mythology, tales, but also its questions.
A symbolic space is created between reality and imagination in which socially entrenched fears can slip … With brushes and words she explores the relationship of the real to the poetic and questions the questions of identity, fragmentation, femininity and the animality.
Website /// FB ///lunat06@yahoo.fr /// CV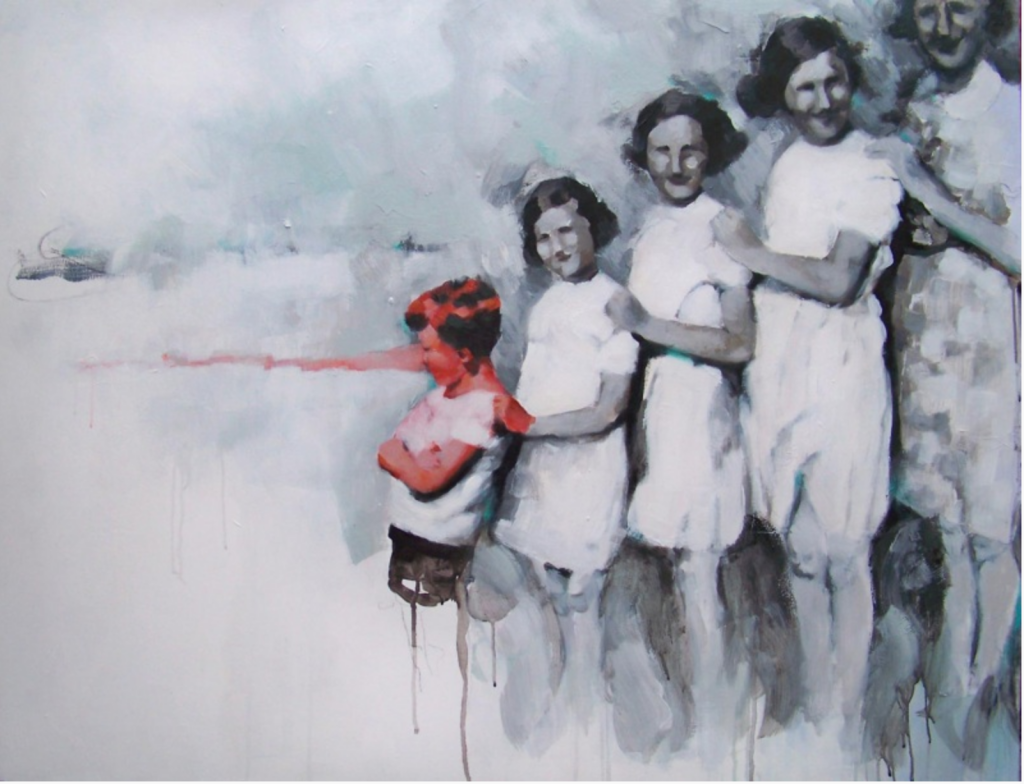 – ABSENCES, WALL, Shareef Sarhan + Lunat –
Video & sound installation on a wall of clothes and various objects on the ground (suitcases, shoes…). Images & sound of the agitated backwash. 4 x 3 meters.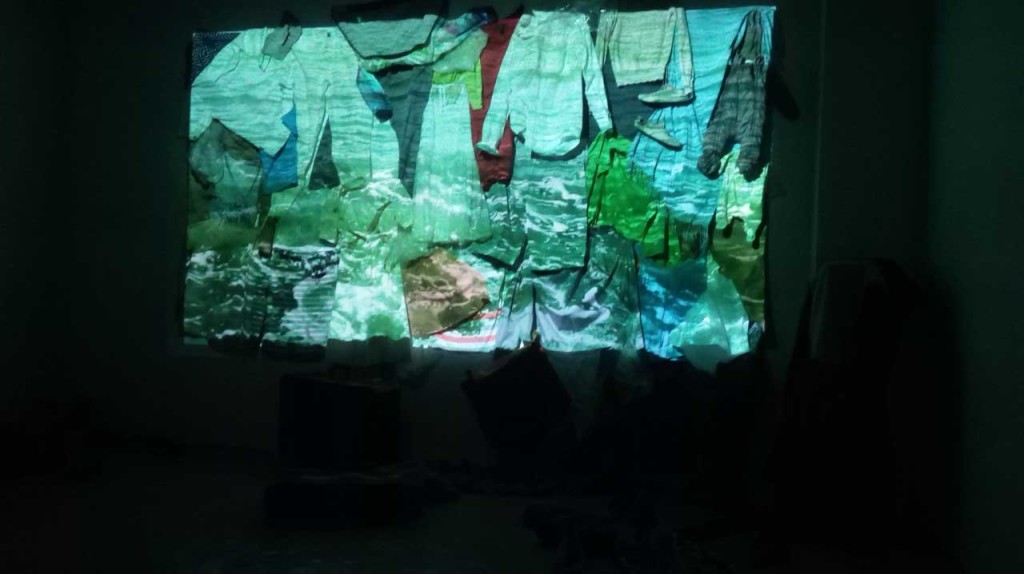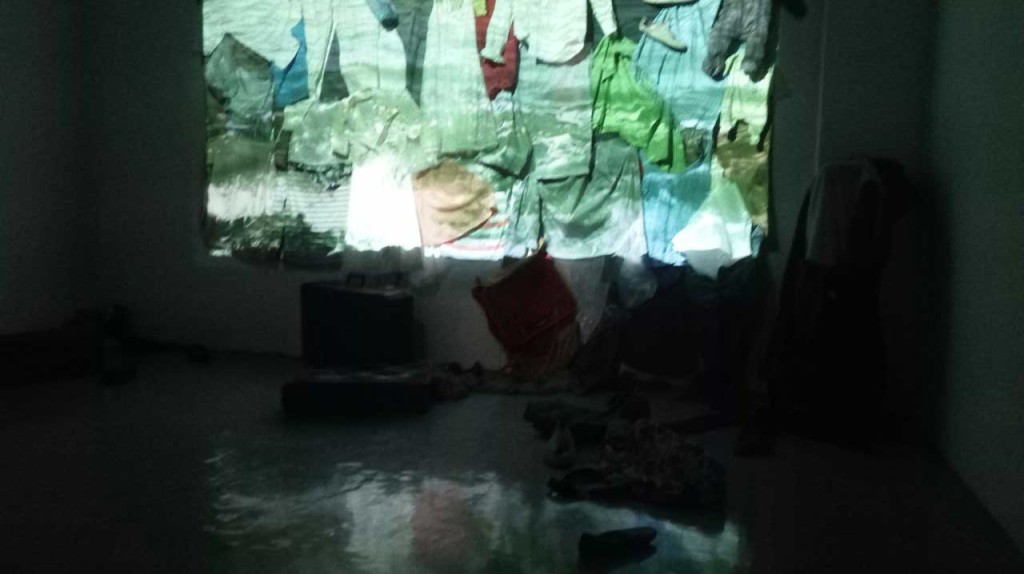 –  EXHIBITIONS  –
– A first presentation of Line project in the form of an installation took place during the Hacker Festival THSF at Toulouse, in june 2019.
– Phase 1 of Line, consisting of projects designed by Gazan artists, was realized and presented in september  & october 2019, during the Biennale/Arts Vivants/International and Bricodrama2, in six different locations at Toulouse and Rabastens. The artworks exhibited were seen by approximatively 6600 people.
–  Phase 2 of Line, i.e. the realisation in Gaza of the artistic proposals imagined by the artists settled in France, is being launched.
–  RESEARCH  –
Cultural Creations in Times of Occupation: The Case of the Visual Arts in Palestine, Marion Slitine
Contemporary art from a city at war: The case of Gaza (Palestine), Marion Slitine